The Importance for Proper Drainage in your DeKalb Home.
6/24/2022 (Permalink)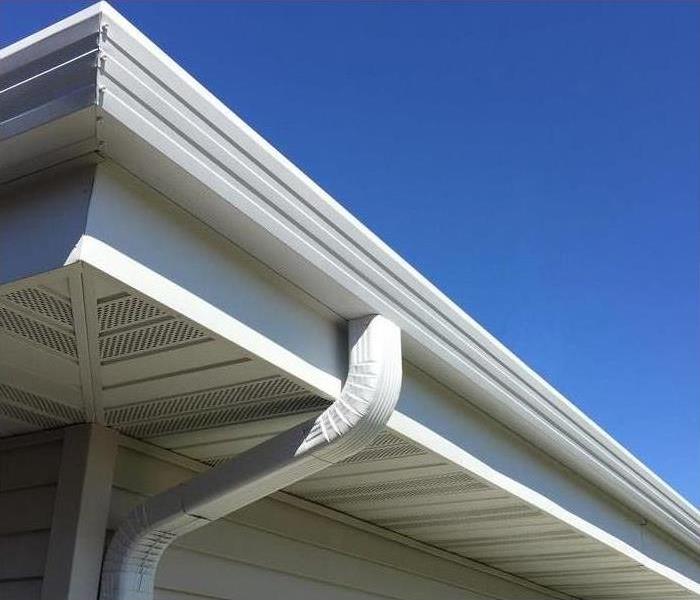 From intense wind, heavy snow fall, and rain showers, your Dekalb home endures a lot of storms throughout the year. When these storms hit, your gutters are busy at work. Their job is to control the flow of rainwater which protects your roof, walls, foundation, and landscape. Unfortunately, they can also be at risk for causing serious additional problems if they are not maintained.
If your gutters are not maintained after enduring Dekalb's storms, you can easily be at risk for potential water damage which can cost thousands of dollars. Since the job of gutters is to carry water away from the home's foundation, it cannot do its function without clear paths. Clogged gutters will eventually overflow onto the foundation of the home. And depending on the amount of water and condition of the foundation, water could seep into your basement or crawl space. Clogged gutters can also pose a weight strain on your roof and fascia. This could cause your roof to collapse and causing damage to the shingles of the roof and exterior of the house.
A routine cleaning of your gutters can prevent damage to your roof, exterior, foundation, and save you a lot of money in damage repairs. By setting aside a couple of hours, follow these steps to easily clean them yourself and ensure they are functioning properly:
Protect your hands and keep them dry by wearing latex gloves
Begin cleaning near the downspout
Clear large debris such as leaves and twigs by hand
Remove and clean downspout strainers
Flush out the gutter with your garden hose. Start at the opposite end of the downspout
Check the downspout for any lodged debris and remove any remaining debris
Use a pressure washer to remove any mildew and dirt from the gutters
If your Dekalb home has experienced water damage, be proactive by partnering with SERVPRO of Dekalb County to dry out the damaged area. We are the water restoration experts and you can count on us to remove and repair water damage. We are a 24-hour service and can respond to the call at any time. To schedule an estimate or have any questions, call (815) 758-3900.
Learn more about Dekalb.